It is no news that the Export-to-PDF feature in Microsoft Word has brought much celebrated convenience; it is also no news to us that this feature doesn't work well. In today's exercise of fixing some "low res" PDF letterheads that are exported from a Word 2010 document, we had a chance to demonstrate, to our client, the superior quality and reason behind our old fashioned conversion process.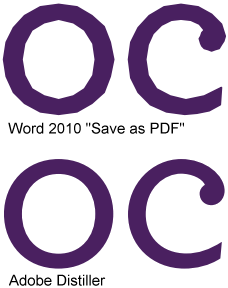 The Word document in question has an embedded EPS drawing. When we printed the document using a PDF printer (Adobe Distiller to be exact), the result turned out perfectly. When the document was directly saved as a PDF, using Word's built-in support, the output contained awful edges.
Curves in the Word export are expressed in a series of segmented lines. It's a misconception that the smoother curve is the result of higher segment count. Well, this is not triangles in a video game. A proper curve in PDF is defined by a Bézier formula. Regardless of the viewing resolution, the curve should
always
be smooth. In other words, the "low resolution" PDF contains drawing instructions that are essentially wrong. We could also say, that Word's EPS to PDF handling is fundamentally flawed.
Unfortunately this flaw is not so obvious in most cases. To an average office worker, a PDF is a PDF is a PDF. Embedding a vector image is already a lot more advanced than a blurry JPEG image. What's more to ask? This mindset has practically eliminated the demand for a PDF printer.
Mass adoption could be destructive. Everyone likes new toys, especially if they are easier to use, more attractive and seemingly more powerful. We should allow these new products to mature before phasing out their predecessors. In the case of PDF conversion, this means using both methods side by side and thoroughly compare their capabilities. Armed with the comparison result, we now know what to ask for in the next edition of the PDF export tool.