Internet faxing has been around for some time. There are also software products that convert your home PC to an advanced Fax machine. Now you can enjoy the best of both worlds.
What's Internet fax?
Internet faxing, or e-Fax allows you to send and receive faxes without the presence of a physical fax machine. By using emails or a web interface, faxes are transmitted from and to the provider's machines. Internet fax has gained popularity among small business owners because it offers mobility while taking away the hassle of setting up local equipment.
What's wrong with Internet faxing?
Internet fax works great for companies who don't send faxes often. As a software company, our fax volume is next to zero. Who needs this out-dated method of communication anyway? For us, Internet faxing makes sense.
Unfortunately, for many businesses, faxing is still an integral part of their daily operation. Many of the documents that are transmitted by fax are confidential. These are contracts, transcripts, medical records, financial reports, etc. Cost aside, sending these highly sensitive paper through a 3rd party is simply unfeasible. As a result, "serious faxes" are sent from a local line.
Is WinFax or its alternatives a solution?
WinFax is a Windows-based software that utilizes a fax modem on a PC. Alternative products such as FaxTalk work in similar ways but are compatible with newer versions of Windows.
Much like fax machines themselves, fax software is becoming obsolete. The Fax and Scan utility from Windows 7 covers most, if not all of WinFax's functionality. Besides, sending a fax is as simply as printing to a virtual printer.
The convenience of a local fax machine has its cost. The user throws away all the benefits of using a cloud based application. While he's traveling about and managing his business online, he simply cannot send a fax like when he's at the office.
Combine the best of both worlds
Our goal is to send local faxes from anywhere on the Internet:

While we're at it, we also aim to fully automate the process. This includes fully unmanned fax delivery of reports and statements.

Our solution is a distributed system where all the fax jobs are managed by a server in the cloud. The jobs are then fetched by authenticated agents that are running on local fax lines. The server also handles task scheduling so that certain documents are delivered at specific times. This is especially useful for offices that combine telephone and fax lines.
The Fax Agent also fully integrates with Windows' Fax and Scan utility so that undelivered fax jobs are automatically retried.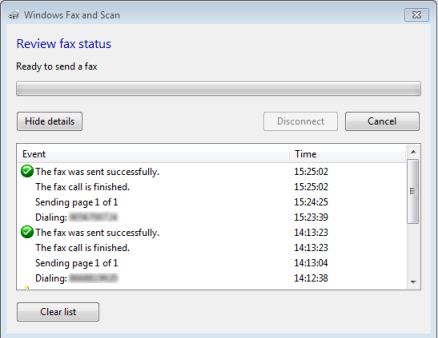 Try it out!
Our Fax Server is currently offered as a free extension for existing Gyroscope customers. If you have an outbound volume of over 2000 pages a month and that you have a local phone line, be sure to sign up for this offer.
If you are not a Gyroscope customer but need to remotely send faxes from a local line, please
contact us for an assessment
.