Take a look at the CRM products on the market. Regardless how feature-rich they are, the majority of these customer relationship management systems put more emphasis on client acquisition rather than customer satisfaction. "Sales Pipeline Management" is probably a better phrase that captures the core functionality of a standard CRM.
For a business owner who truly cares about his business - a business that survives and thrives on a loyal customer base, the amount of "Relationship Management" from a CRM is quite limited.
Remember the last time you called your cable company's help line? How many times did you have to repeat the story before you were finally transferred to the right person? Mind you, all telecoms have
extensive
CRM infrastructure. As noted earlier, CRMs are not meant for customer support. There are commercial helpdesk systems and they are heavily utilized by cable companies too. The efficiency of a typical mobile carrier's support is still mind boggling.
It doesn't matter how many advanced, 3-letter acronym systems a business deploys. At the end of day, they are just a bunch of loosely related tools. The customer support assistant (CSA) may have the biggest heart to help out the customers but without knowing the full story of the client or having any decision making power, the helper is just as frustrated as the customer.
Centralize the knowledge. Distribute the control.
The record navigation capability of Gyroscope
makes it the ideal platform to implement this philosophy. Picture the scenario where an existing cable customer Bob, calls in.

First of all, Bob's record is quickly located using a simple name search. Bob's full account activities are shown in a tabbed view. We can see that Bob is currently using 3 products, and that he's on a cable contract.
Bob explains on the phone, that his Internet has been slow for the past week and today he cannot check his email at all. Naturally, the support checks the connectivity that's in Bob's neighbourhood:

As expected, the Internet connection in the area has been experiencing problems, and a service ticket has been already created. The support also notices that the slow connection is a separate matter. The usage chart shows that the customer exceeded the monthly quota and was placed on a slower connection.
The support then clicks on the warning icon to pull out the service ticket. Although there's nothing he can do to restore the disrupted Internet connection, he can at least acknowledge the issue. Moreover, per Bob's request, he'll be reminded by a text message the moment the network is back.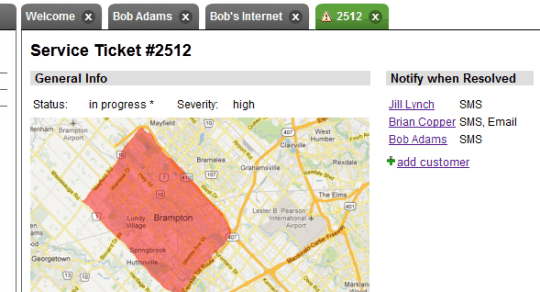 In just a few clicks, both the customer and the support provider gained crystal clear insight of the matter at hand, thanks to the inter-connected nature of Gyroscope. The provider also discovered the customer's need for more bandwidth, and offered to upgrade his account while he's on the phone.