Gyroscope™ Framework
A gyroscope is a device designed to sense orientation which is commonly used in modern aircraft to provide accurate navigation. The Gyroscope framework affords similar characteristics to web applications by allowing for an adaptive user interface that effectively senses the direction users are heading. This adaptive UI called "synchronized tabbed view" allows Gyroscope applications to make data navigation a breeze.
The Challenge of "Advanced" Applications
Look at the menu items of your browser window. Each item is either an action (view, find, etc.) or an entrance to a separate view of the browser (e.g. Tools>Options). This is a typical example of "Action-based Navigation".
As more features are added to the application over time, the menu system also becomes bloated and difficult to navigate.
A New Way to Manage Your Data
Record-based navigation is an effective alternative to traditional action-based navigation. Instead of using a separate menu system, record-based navigation uses the attributes and inter-relations of records to display and manipulate data.
To give a real-world example, let's look at the typical types of records a property management company deals with: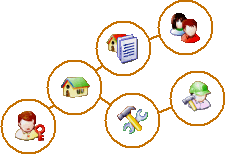 Landlords own properties; Properties have rental agreements (leases) that are signed by tenants; Properties have maintenance orders; Contractors fulfill maintenance orders.
Record-based navigation divides the above system into smaller, managable views: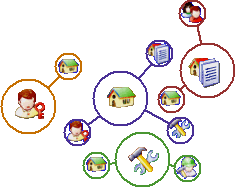 The user can start with any record. If he starts with a property, he can see this property's landlord information, as well as its related maintenance orders and leases. The user can then pivot to detailed landlord view, or maintenance view, or lease view, which would then offer a path to the tenant view.
Divided views make complex content easy for end users to digest, and also easy for developers to implement since only relevant relations need to be considered at any time.